At CADskills, we believe that custom-made surgical replacements will soon become standard treatment for dysfunctional bones and joints. Our CADskills team helps clinicians design a bespoke implant based on CT or CBCT data in the DICOM format and clinical pictures of the defective anatomy. The masterpieces are in-house, computer-aided manufactured using 3D printing. CADskills uses Titanium gr23 ELI exclusively as a metal to avoid the real threat of sensitization and allergic reactions to cobalt, chromium, nickel and molybdenum, alloys of which (ASTM-F75) are most commonly used to make artificial joints.
About Cadskills
We were created to create CADCAM PSI
The company started as an idea that grew in the operation theatre from clinical needs. The surgical community requires only one service provider with a multidisciplinary team, instead of cooperating with different medical image software providers and several CNC-milling companies to achieve desired outcomes.
The first 5 years were characterized by an almost pure R&D activity, with organic sales. Various concepts were prepared for the market. From 2021, the company will focus more on international sales, but will continue to invest in the development of new concepts.
Read more
Contact us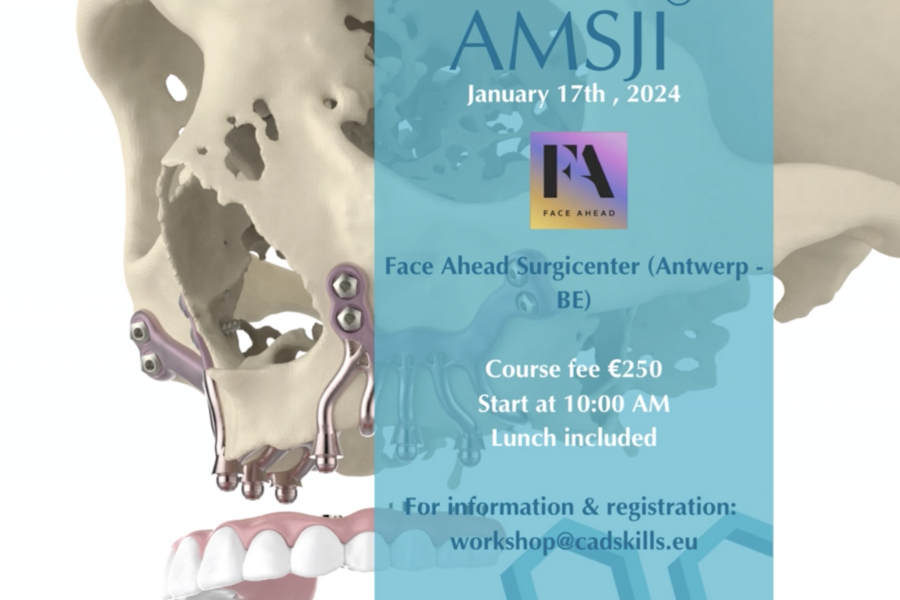 AMSJI workshop in Antwerp
This is the first workshop and live surgery demonstration that will be given locallly in the AMSJI expert center of the Face Ahead Private Clinic in Antwerp. Attendance is limited to 5 health care professionals. The course fee is €250. Registration…
Read article
New collaborator
We welcome a new production assistant: mr. Esteban Vaca Yepez. He is Ecuadorian but lives with his family in Ghent. In addition to teaching English, Esteban has also been an inspection coordinator for a large entreprise and CEO of a small company. In…
Read article